Simon vs. the Homo Sapiens Agenda by Becky Albertalli

My rating: ⭐ ⭐ ⭐ ⭐ ⭐

Sixteen-year-old and not-so-openly gay Simon Spier prefers to save his drama for the school musical. But when an email falls into the wrong hands, his secret is at risk of being thrust into the spotlight. Now Simon is actually being blackmailed: if he doesn't play wingman for class clown Martin, his sexual identity will become everyone's business. Worse, the privacy of Blue, the pen name of the boy he's been emailing, will be compromised.
With some messy dynamics emerging in his once tight-knit group of friends, and his email correspondence with Blue growing more flirtatious every day, Simon's junior year has suddenly gotten all kinds of complicated. Now, change-averse Simon has to find a way to step out of his comfort zone before he's pushed out—without alienating his friends, compromising himself, or fumbling a shot at happiness with the most confusing, adorable guy he's never met. 
My Thoughts
To be honest, I can't appreciate this book enough. Simon vs. The Homo Sapiens Agenda is my favorite book, and I am really proud of this fact. I am ready to shout it from the rooftops. I know, it's not really the best book that's ever been written. I know that I have not even read as many books as I should've, and I will find books that are a million times better than this one, and that I'd once, in my stupid teenage years, had called The Fault In Our Stars my all-time-favorite and now I have outgrown it, and I could outgrow this one too. But you all, I'm well aware of all these aforesaid facts. When I say that it's my favorite book, I mean that it's the only book that I go to whenever I'm in a bad way, and even though I don't really believe in having "one favorite book" this is clearly my one most favorite book.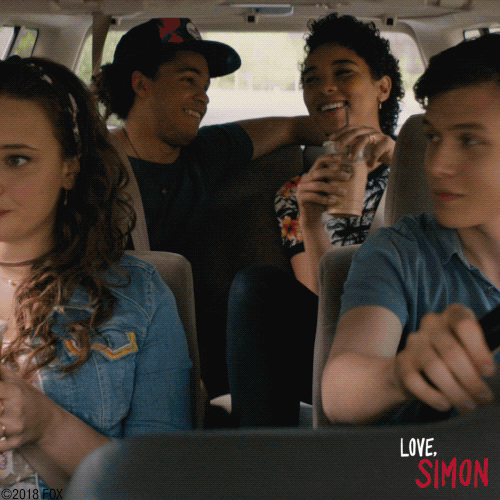 I have read this book about a dozen times. And the concept of Diminishing Marginal Utility that I learned way back in my twelfth-grade econ class doesn't apply to this one book. I could reread it a million times and never get bored. I read this book when I'm in a reading slump. I read it when I feel out of sorts. I read it when I have the desire to read it. And whenever I read it, my cheeks hurt from smiling and giggling.
Now that I've gushed enough about it, I'd like to tell you why this book is so special and worth reading and rereading and rerereading:
It talks about the first times like a perfect YA. It talks about drinking beer for the first time, being in love for the first time, coming out for the first time, and other important events.
Also, another thing I've noticed is that none of the teenagers in this book are perfect drivers (except Abby, maybe). Nick was nervous while parallel parking, and we come to know that Simon's parents are strict about him driving, and go ballistic and ground him when he returns home drunk even though he doesn't drive himself. Becky Albertalli doesn't give us a single person whom we could LOATHE. Well, there are people who are not exactly lovable, but we can't HATE ANYONE'S GUTS.
This book also teaches us the value of friendships and love and family. I loved Simon's sisters, his friends, his teacher Ms. Albright, his badass and cool parents and everyone else he loved. sighs


So, if you have already read and reread this book a million times, I already adore you so much. And if you haven't, go and grab it right now. This one's gonna be super amazing and I'm hundo-p sure about it.



Find me on Goodreads