My Rating: 🌟🌟🌟🌟🌟
This book is a sequel to To All The Boys I've Loved Before. If you haven't read the first book and want to read it, this review CAN HAVE SPOILERS. In case you want to read my review of the first book in this series, click here.
Lara Jean didn't expect to really fall for Peter.
She and Peter were just pretending. Except suddenly they weren't. Now Lara Jean is more confused than ever.
When another boy from her past returns to her life, Lara Jean's feelings for him return too. Can a girl be in love with two boys at once?
In this charming and heartfelt sequel to the New York Times bestseller To All the Boys I've Loved Before, we see first love through the eyes of the unforgettable Lara Jean. Love is never easy, but maybe that's part of what makes it so amazing.
OMG. Such a beautiful book. I don't think I'm coherent yet even though I finished it two days ago. If I started talking gibberish, you know what and who to blame. I request you guys to bear with me.
In this book, Lara Jean and Peter finally find their way to each other, but then another guy Lara Jean sent a letter to returns, and her crush on her returns too! Can Lara Jean be in love with two guys at the same time?
I don't think I've been in love with a book in a long time, and I guess I was kinda yearning for this feeling, and I'm so happy that I finally found the spark I had been looking for, even though it took me some time.
P.S. I Still Love You was a brilliant love triangle, and it made me fall in love with everything. It makes me want to embrace everything around me and think about all things warm — sunshine, cookies and love.
I was/ have been a little doubtful about the first book in this series, but this one just made my catastrophic life easier, and I've never been surer. I loved it. So much.
Anyway, let's talk about the things I loved about this book. I mean, it's not like there's anything I didn't like but…
I loved knowing these characters and their lives more. It made me feel as though they were real people. I like the idea of thinking that these could be real people. I mean, I know they're not. But what if?
There's so much nostalgia in this book, which makes it so much better. I was missing my elementary and middle-school friends and the games we all used to play, and how we slowly drifted apart. Ugh… these traitorous tears. It was just perfect reminiscing all those sunny evenings spent with old buddies who are probably in some other corner of the world, with an audiobook playing in your ears. I mean, I can't even. *wipes away some disloyal tears*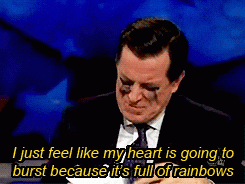 I loved Lara Jean more than I loved her in the first book. She's grown up and become a better person. I like it when people become better. I mean, she's very different from the characters I usually like, and she was kinda getting under my skin in the last book because of the stupid shit she always managed to pull, but she was good in this book. Like, really good. She takes everything and everyone for granted, maybe, and is a bit spoiled. But she did grow up and became a mature person. And I like it when people become better versions of themselves.
The thing I loved the most about this book was Lara Jean's relationship with her family. This book is all about her relationships, and I like reading about good relationships. And her relationship with her family was GOALS.
Her relationship with her father and her sisters is the best thing I've read about. I loved all the scenes of Lara Jean with her family, and especially her dad. They make me tear up and cuddle my teddy super tight ughhh.
Also, there were a few scenes in which she misses her late mom and I mean….it feels like I'm announcing it to everybody that I'm a huge crier. I also loved the scenes between Margot and Lara Jean– Margot is so caring– and I just love Kitty. If you want me to pick a favorite character from the series, I would say it's Kitty. There's great sisterhood in this book and that's lovely to see.
Let's talk about some assholes now:
I have a list of assholes, and it begins with Genevieve, who is Peter's ex-girlfriend. If you've read the first book, you'd know she's an asshole. And she does not change in this book. At all.
The next one in this list is Chris, who is Gen's cousin and Lara Jean's "best friend" and never forgets to make her feel bad?
Then there's Peter's friends, who are jerks. I mean, they're stereotypical jocks.
And I don't know if it is a spoiler, but PETER KAVINSKY is the most important asshole in this book. He's very cocky, conceited, overconfident and snooty. He's also very patronizing — I didn't like the way he reacts when LJ tells him about her first date. I didn't like the way he treated Lara Jean throughout this book. He never actually believes her, and he laughs off her questions, even when they are legit. When Lara Jean is extremely distressed about the leak of their "sex-tape" he treats it as some another unimportant life event, but that's just what his personality is like. Also, there's another reason I dislike Peter–I never shipped them in this book– and that is a spoiler, but you guys will know what I'm talking about if/when you've read the book??? Sorry Peter K, if you were my boyfriend we would've broken up and never gotten back together.
Oh, and speaking of sex-tape, there's some talk of safe sex sprinkled here and there in the book –makes me think of the baking scenes in the book, which is weird?– but not in the cringeworthy-birds-and-bees-talk manner.
And a huge shout out to the narrator of the audiobook, Laura Knight Keating. She is the best! I do not usually listen to the audiobooks but man, her voice and her style are gorgeous.
I think I've covered most of what I wanted to say. I am so in love with this book and I think it deserves my love. If you want some adorable romance, definitely check out this amazing three-book-series. I haven't read the third book yet, but I'm definitely checking it out and I hope to love it! And I can't wait for the movie to come out! I'm so excited, yay!
If you've read it already? I can't wait to hear your thoughts! Let's talk about the book below.
Follow me on: