I'm so excited to do this post. So, I've seen people do this kind of thing on YouTube but I've never seen it here on WordPress. I don't know how it works? So, I'm gonna go to Goodreads and read some negative reviews of Twilight, and then, react to them. For people who want to read this series, SPOILERS AHEAD. And now, let's get started!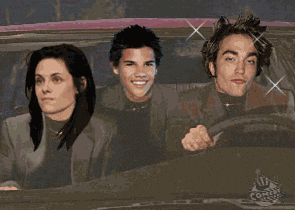 1.
If I had to read one more description of how beautiful Edward is, I was going to choke a kitten.
This one made me roar with laughter because I really feel the person who wrote the review. This book really did talk about the peerless beauty of Edward, and I really want to pick up my copy and paint all over the descriptions of his statue-like perfect bod. Animal abuse is NOT DONE, though! I'm calling PETA right effing now!
2.
The coolest thing about rereading Twilight is that it caused me to create really cool new shelves, such as, "Kill me now", "Idiot heroine", " This is not literature (a two-year-old can write this)", and my personal favorite, "where's my chocolate?"
How dare you say that about my favorite book?! Just kidding, haha, I knew something good would come out of it and wasn't I right?! But there's one thing I disagree with, and that is, a two-year-old wouldn't have written something as complex as Twilight…unless they're a vampire from Twilight 🧛.
3.
Time heals all wounds, however, and two years and many more books later, the poison has left my body.
I'm happy for the reviewer, but I still think it was ambrosia and not poison. I'm still hungover, even though I've read a million hundred books since Twilight.
4.
And for Pete's sake, if a moody, brooding guy says, "I'm dangerous. You should stay away from me," say, "You're right! Except actually, you'd better stay away from me. Or I'll drop some dynamite on your sparkly little dangler. Bye!"And then go have some adventures of your very own, and live happily ever after.
This one made me bust up lol, and that's because I read the full review and it's so true that it's hilarious. It made me realize that truth is funny sometimes. Also, I think I will definitely keep this review in mind and say it for real if a sparkly statue-like oldie with beautiful and unhealthily pale face came along and tried to sweep me off my feet yet push me away at the same time… I do not even like imagining myself in this nightmare.
5.
You know staring at a wall for one hour would be more interesting than this book.
What do you think I do now that I've read this book, like, fifteen billion times? I stare at those fascinating figures and patterns on my ceiling. Of course I painted Edward and Bella on it!
6.
i had no expectations yet i still managed to be disappointed. it's amazing how this book could do that.
The only reason I gave the book three-stars is that I wanted to see Edward in a slammer but he (read: the stalker) ends up married to the girl in this series, just like in most of the movies I've watched. IT'S NOT EVEN A LIE, Y'ALL. Also, I'm glad that I only type in lowercase on Twitter.
---
So, I hope you guys enjoyed this post. I think I'm going to do it with some of my favorite books…maybe — I do understand Twilight is problematic and I should hate it, but I do not. I do agree with most of the rant reviews for the book, though! Also, I found most of the reviews I read on Goodreads very hilarious, and I think you should read them too if you're having a not-so-great day! Oh, if you want to know my thoughts on Twilight, click here. You can find the full reviews here: 1, 2, 3, 4, 5, 6.
So, have you guys read this book? What do you think? Do you agree with the reviews I've mentioned? Let's talk about it!